Mowing is one of the most important cultural practises for maintenance of a healthy lawn.
Regular mowing increases turf grass density and promotes strong root growth, both of which lead to stronger turf
Basic rules of mowing
The optimum height is roughly 5cm – minimum is 3cm.
The height and frequency of mowing:
Mowing frequency is determined by the growth rate (not the number of days).
Grass should be mowed often enough so that no more than 1/3 of the growth is removed per mowing! Leaves are the reflection of the root system. Turf grass undergoes physiological stress with each mowing time, particularly if too much leaf tissue is removed, and this can prevent the development of root system.
If the air temperature is above 25 degrees, you can mow your lawn less frequently, and bring up the height by 1 – 3cm. On few occasions you can leave grass clippings on the ground, as this will create a little bit of protection from the sun. But make sure you gather everything up at a later stage.
Change mowing patterns. Mowing often lays the grass over slightly and therefore it is important to mow in different direction.
If it happens and your lawn is overgrown. Set your mower so it will cut down 1/3 of the lawn's current growth, cut it every day if needed, but do not take off more the 1/3 of the growth. Make sure to collect all the grass clippings.
Collecting clippings.
There should not be too many leftovers if you are mowing your lawn on regular bases and during a dry spell. You can use grass box every 4th or 5th mowing, and this will make sure you pick up any old grass clippings as well. If you are not mowing your lawn on regular bases or if clumping occurs, make sure to use grass bow to collect all the clippings. Remember clippings can be composted!
Mowing Equipment.
Mowing is one of the most important jobs in lawn care and it is time consuming too, unless you are using Robotic lawn mower
Mowers are available in a wide variety and sizes. The most common one is rotary. Rotary mowers can be obtained as push or self – propelled or Ride – on – lawn mower. The type of lawn mower depends on the size of your lawn, the frequency of mowing and the quality of lawn you are happy with. If you wish to have high quality lawn, make sure to go for lawn mower with a grass box.
Robotic Lawn Mower is probably one of the trendiest gadgets for the lawn owner, and it is one of the friendliest for your lawn. It is an excellent 'helper' around the garden:
Creates an even, denser, carpet like beautiful lawn.
It cuts grass at least once a day.
Removes only 5mm of the grass, not causing stress.
Mows any time of day or weather, it can mow damp grass and even during the rain fall.
Remotely control your robotic lawn mower via an app on your phone or computer, so you can enjoy your holiday!
Alternate mower with irrigation system, let your Robotic mower rest while irrigation system works.
Irreplaceable helper around holiday home, you don't have to be there to have a perfect lawn.
Silent helper in the garden, no noise pollution. It can be used on early Saturday morning without waking up the whole of your household.
More environmentally friendly! Main's electricity is generated much more efficiently that the power produced from conventional mower.
Blades have to be changed few times a year, disconnect for winter and then connect it back for the next season.
More time for yourself, family or other gardening chores.
The only argument that might be in favour of a conventional mower is that the owner might want a little bit of a physical activity – walking behind the mower.
Although this high tec gadget is new on the market, there are few cons we should discuss:
Robotic Lawn Mower creates that perfect looking lawn, and sometimes you want to adjust the mowing height, and a little more. And you have even noticed that the mowing height has been adjusted below the required level and your lawn starts to disappear, or it is overtaken by white clover and weeds. There is no need to lower cutting height lower then 3cm, the only exception to this rule is special seed mix for low growing lawns.
If the garden is surrounded by pine trees or any other conifer, you must pick up any cones or larger twigs. Leaving them around may damage the blade of the mower and affect its
Usually, the perimeter guide wire is dug into the soil very shallow. This might cause a problem during more invasive gardening jobs, like digging, aerating lawn, or raking it. If you are not careful you might damage the wire.
If you would like to achieve those famous stripes like on your favourite soccer pitch, in that case you might have to invest in a more advanced Roller lawn Mower. These are designed to provide 'cleaner cut'.
Selection of mowing equipment:
Make sure the height is adjustable.
Mowing frequency and type of grass.
Make sure that mower blades are sharp. (Mowing lawn with a sharp blade will create clean, straight cut. A dull blade can make your lawn appear white and raggedy. A dull blade stresses the grass and damages the tips) (photo of a dull knife)
Mowing in Autumn.
Continue mowing during the Autumn. If the grass produces any kind of growth, be it only 1cm, keep mowing it. Depending on the weather, sometimes you will be cutting your lawn even as late as December. The height of the last cut should be no lower than 3.5cm. Make sure it is tidied up afterwards, do not leave any cuttings, branches or fallen leaves. Sometimes the growth will pick up during Autumn, make sure to cut it then.
Most common mistakes or problems when mowing the lawn.
1.It is not mowed frequently enough, leaving cuttings behind. This can cause irreversible damage to the lawn.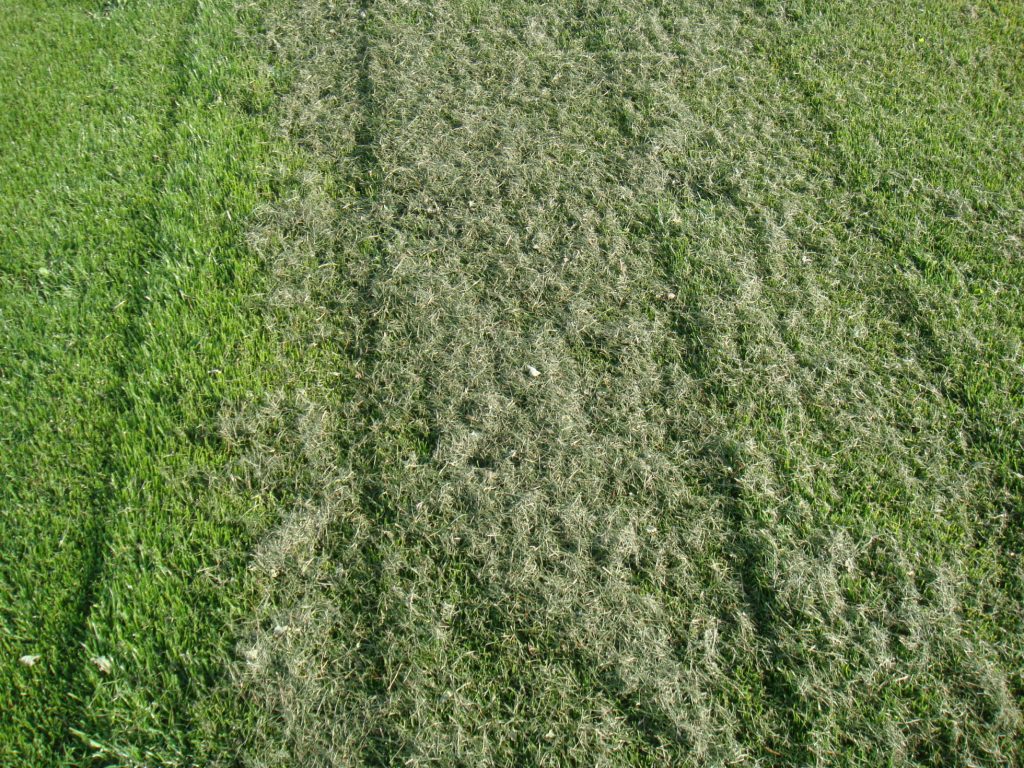 2.Dull or blunt mower blades create whitish or grey effect – dull blades damage the soft tissue of the foliage, and it dehydrates.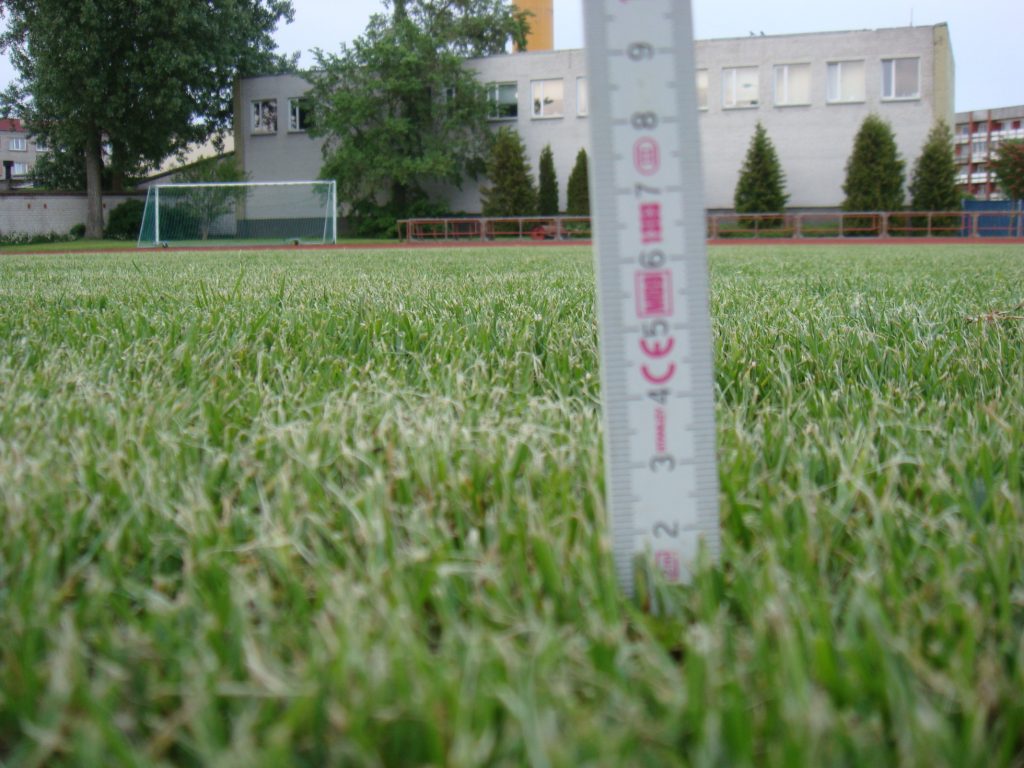 ---