Lawn Seed
When we are talking about lawn seed, it is worthwhile to mention that there are many different options available. There are many different grass seed species available to provide gardeners with the best lawn. There is no one perfect mix that fits all. To give you your perfect lawn you have to create your own special mix.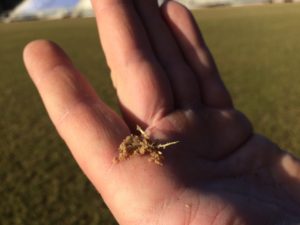 There are three essential grass species most suitable to our climate
Kentucky bluegrass or smooth meadow grass (Poa Pratensis). It is hard wearing, it can regenerate, and, of course, it is Winter hardy. This species develops strong underground root system, therefore can fill up any bare patches. Disadvantages are that it is slow to germinate and develop, it might take up to 4 weeks, which gives a chance to other species or weeds to take over.
Red Fescue (Festuca Rubra). It is the hardiest species out al three, widespread and very common in most grass habitats. Germination takes roughly 3 weeks. Red Fescue is fine – leaved perennial grass. It's fine, bristle – like leaves create fine and dense lawns. Red fescue is reasonably hardwearing, it is slow to recover after Winter and because it produces more side shoots it can create thatch.
Perennial Ryegrass (Lolium Perenne). It grows at a fast rate, and it is by far the most used grass species. It germinates within 7 days. Selected seed mixes are extensively used for sports pitches and reseeding bare patches, for reasons mentioned above. In good fertile conditions this species will provide you with a hardy, dense and tidy lawn. Perennial Ryegrass does not produce any underground sides hoots, so it is no good for reseeding.
Tips for reseeding your lawn
Good quality lawn will require reseeding once a year, this way lawn will be replenished all the time.
It is important that seed has got good contact with the soil, so the best time to repatch your lawn is when doing aerating or proper raking.
The best time to reseed your lawn is in May, when the soil temperature has reached at least 8 degrees.
Coverage should be even, using 15-30g of seed per m2, depending on the situation.
To achieve even spread, recommend sowing seed twice, first in on direction, and then across.
It is important to remember that you have to provide good germination conditions, especially moisture
Therefore, water your lawn daily during a dry spell. Make sure grass seed is damp and does not dry out. Once the germination process has started – lack of moisture will kill the seed. Reseeded patches should be minded for at least two weeks, depending on circumstances.
---